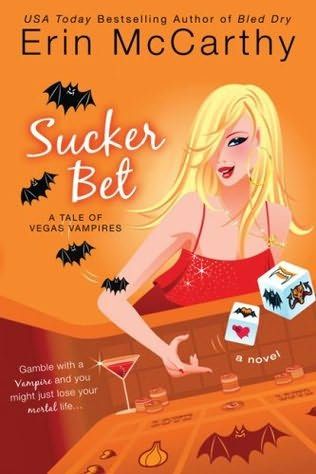 Cover Rating: ★★★★☆
Title:
Sucker Bet
Series:
Vegas Vampires
, #4
Author:
Erin McCarthy
Pages:
296 (Paperback)
Publisher:
Berkley
Release Date:
January 2, 2008
Source:
Purchased
A night of indulgence can feel like an eternity. Gwenna Carrick has a history-900 years of it. As the vampiress ex-wife of the notorious vampire Roberto Donatelli, she must keep a low profile. Not easy when you're bathed in the neon glow of Las Vegas--especially when there's a whole online group of vampire slayers bent on dealing you your last hand.

A wild night with a stranger was not in the cards for Gwenna. But that's what happened when she met the ruggedly handsome detective Nate Thomas. Their passion made her feel alive again. But when Donatelli catches wind of the tryst, he's determined to clean house, with Nate the first on his To-Off List. Gwenna knows she hit the jackpot with Nate and won't let anyone stand in the way. But both soon realize they have far more enemies than Donatelli--both on the strip and underground.
I was hoping that this book would be focused on Kelsey. She's had an ongoing story through the previous three, and I do think she and Ringo had potential. They have a lot of problems that would be interesting to read more about it, but instead this one is about Gwenna, Ethan's sister. We don't know much about her other than she's been living alone in a castle for hundreds of years after her three century marriage to Donatelli. Now she's starting to let go and live life. She even starts up a hot affair with Detective Nate Thomas!
This one is a bit different than the others, in that there's an actual mystery to solve! Complete with dead bodies, sexy detectives, suspicious foreign women, and vampire slayers! While it's a quite morbid plot, I still had fun trying to figure out who was behind it all and why. I never figured it out until the very end, and there's a bunch of twists and connections along the way that I wasn't expecting.
We do get some of Ringo and Kelsey, and they're just as screwed up as ever! I definitely wish there had been more, since they're problems range from serious to silly. Their connection to the murders was unexpected. The vampire world sure is small.
Anyway, the focus was on Gwenna and Nate, two people who have gone through hell. Gwenna is still grieving her daughter after 900, and Nate loses his sister at the beginning of the book. They happen to meet when a Gwenna finds the first dead body, and soon enough they find comfort in each other's arms (and other places). I really liked these two together, and I said it before but I'll say it again, the author sure does write some steamy sex scenes!
I enjoyed this one a lot. Maybe not as much as
Bled Dry
but it was still a good addition to the series. I just found out that there's two more books, so I'm going to need to hunt those down!
Favorite Quotes
"I can't and shouldn't control the length of my life, but I can control what I do in the time that I'm here." (pg 80)
"Are you telling me the entire band is undead? Is the whole audience full of vampires?"
"No." Kelsey looked at her like that was an idiotic suggestion. "Why would the audience be vampires? They're a vampire band pretending to be vampires so no one knows they're really vampires. But since we're vampires, we know they're vampires, of course." (pg 119)
"Then when we're done being British and shagging, we can fuck like Americans." (pg 142)