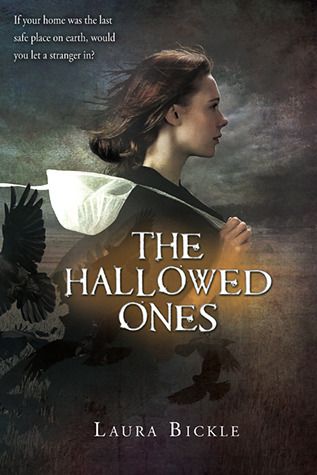 Cover Rating: ★★★★☆
Title:
The Hallowed Ones
Series:
The Hallowed Ones
, #1
Author:
Laura Bickle
Pages:
311 (Paperback)
Publisher:
Houghton Mifflin Harcourt
Release Date:
September 25, 2012
Source:
Won
Katie is on the verge of her Rumspringa, the time in Amish life when teenagers can get a taste of the real world. But the real world comes to her in this dystopian tale with a philosophical bent. Rumors of massive unrest on the "Outside" abound. Something murderous is out there. Amish elders make a rule: No one goes outside, and no outsiders come in. But when Katie finds a gravely injured young man, she can't leave him to die. She smuggles him into her family's barn—at what cost to her community? The suspense of this vividly told, truly horrific thriller will keep the pages turning.
More like 4.5!
There was no way in the world I wasn't going to read this book! As you probably already know, I'm a huge vampire fan, but I also find the Amish culture fascinating. Combing the two? Yes, yes, and more yes! While
The Hallowed Ones
uses the slow pacing that defines the Amish lifestyle, it is still a highly engaging and exciting story.
The idea of the Amish standing against a vampire apocalypse may seem strange, but it does make sense. Who would be best prepared for some kind of disaster? A self sustaining, isolated community, of course! And these vampires are nothing like the beautiful, seductive creatures featured in so many books today. They're grotesque, vile things, with one thing on their mind: kill.
I really liked our narrator, Katie. She's compassionate and curious, and thinks before she acts. She even takes a moment before following a direct order from her elders. While she is dedicated to her faith, she does want to know what lies Outside.
Rumspringa
is quickly approaching, and she wants to experience Outside life before committing to a lifetime of being Plain, or not. Sometimes her compassion does come in direct conflict with the rules of her community, like when she rescues an English man stuck right outside their gates during the lock-down.
There's an element of horror lingering in the background as Katie worries about what's happening Outside, and whether or not it can get in their gates. However, life must go on, and the author does an amazing job of showing us the everyday routine of the Amish people, as well as some special events. I felt totally immersed in their lifestyle, but I could also sense the fear and confusion that Katie is harboring.
I seriously loved this book, but I can't give it a full 5 stars because I have hard time believing Katie's actions toward Alex at the end. It felt rushed, random, and out of character for her. This is definitely a solid 4.5 star read though, and I cannot wait to see what happens next!
Favorite Quotes
There was a difference, I had decided, between knowing and believing. And I wanted both. (pg 3)
All my life, people had been telling me to be quiet. To obey. And it had never gotten me anywhere. (pg 212)
"Men are essentially useless for the difficult things in life. For births and deaths, one clearheaded woman is more useful than a half-dozen men." (pg 251)
Was this review helpful?
If so, please
vote yes on Amazon
.