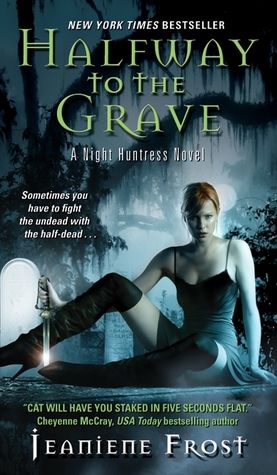 Cover Rating: ★★★☆☆
Title:
Halfway to the Grave
Series:
Night Huntress
, #1
Author:
Jeaniene Frost
Pages:
358 (Mass Market Paperback)
Publisher:
Avon
Release Date:
October 30, 2007
Source:
Library
Half-vampire Catherine Crawfield is going after the undead with a vengeance, hoping that one of these deadbeats is her father--the one responsible for ruining her mother's life. Then she's captured by Bones, a vampire bounty hunter, and is forced into an unholy partnership.

In exchange for finding her father, Cat agrees to train with the sexy night stalker until her battle reflexes are as sharp as his fangs. She's amazed she doesn't end up as his dinner--are there actually good vampires? Pretty soon Bones will have her convinced that being half-dead doesn't have to be all bad. But before she can enjoy her newfound status as kick-ass demon hunter, Cat and Bones are pursued by a group of killers. Now Cat will have to choose a side . . . and Bones is turning out to be as tempting as any man with a heartbeat.
It's about time that I got around to this series! I kept reading how awesome it is, and how sexy Bones is, and
Night Huntress
this and that, but I kept pushing it aside. Well, now I've finally read it and yes, the hype is warranted!
Cat is a half-vampire vampire hunter on a mission. She goes out on the weekends to kill any vampire she happens to stumble upon, all in the name of revenge. She's the result of a horrific union between her mother and an evil vampire, so Cat's one goal is to rid the world of vampires in her mother's name. That is, until she meets Bones, a vampire bounty hunter. They have the same goal, kill vampires, but for very different reasons. Bones also challenges Cat's belief that all vampires are evil and should be gone from the world.
Bones, Bones, Bones. Wow, what can I say about Bones? I thought his awesomeness was being exaggerated, but no, he is amazing. He can kick some serious ass and he's sexy as hell. The English-Australian combo accent doesn't hurt either! He says and does things that will you set you on fire! The sexual tension between him and Cat is electrifying, and when they do come together...Holy crap! Those scenes are seriously hot! I can't get enough of those two!
The plot is great, too! It's fast paced and action packed. Evil vampires have teamed up with evil humans and are up to no good. Cat and Bones work day and night trying to hunt down who exactly is behind the kidnapping of dozens of young women in the area. There's lots of bumps along the away, plenty of stakes and silver throwing stars, and of course some breaks for super steamy romance. And even though vampires have been done to death (pardon the bun), I really liked the biology and social structure that the author has created for them int this one.
Halfway to the Grave
is everything that Urban Fantasy should be: fast paced, funny, sexy, and exciting. I could barely put it down! That ending though, heartbreaking! I do have hope though. Now I just need to get my hands on the next book.
Favorite Quotes
"Are you telling me bloody caramel apples and books taught you how to kill vampires? Is that what you're saying?"
He started to pace in short, rapid lengths. "It's a damn good thing most of the recent generations are nearly illiterate or we'd all be in serious trouble. Blimey!" (pg 18)
"Don't kiss me like a woman if you're going to treat me like a child." (pg 120)
"No, I'm too tired to run, and you're too fast. You'd only catch me."
"That's right, luv." Softly, but with unyielding resonance. "If you run from me, I'll chase you. And I'll find you." (pg 202)