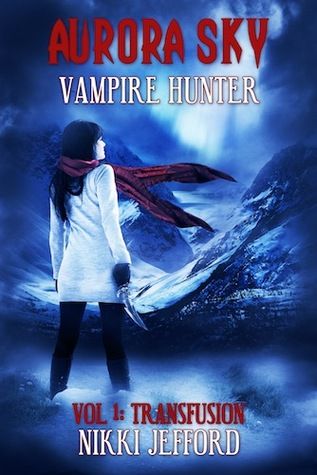 Cover Rating: ★★☆☆☆
Title:
Transfusion
Series:
Aurora Sky: Vampire Hunter
, #1
Author:
Nikki Jefford
Pages:
242 (Paperback)
Release Date:
November 27, 2012
Source:
Amazon Freebie
If there is one thing eighteen-year-old Aurora Sky wants, it's to get off the iceberg she calls home. Being kissed before she graduates wouldn't hurt either.

Then a near-fatal car wreck changes everything. Government agents step in and save Aurora's life in exchange for her services as a vampire hunter. In Alaska. Basically she's a glorified chew toy. All thanks to her rare blood type, which sends a vampire into temporary paralysis right before she has to finish the job… by hand.

Now Aurora's only friends are groupies of the undead and the only boy she can think about may very well be a vampire. And if he's a vampire, will she be forced to kill him?
The blurb for
Transfusion
had me at "glorified chew toy"! Aurora Sky has a rare blood type that, when mixed with a cocktail of pathogens, causes paralysis in vampires when they bite her. Of course, the government wants to make use of her in their fight against the bloodsuckers. After a car accident, the government rescues Aurora in exchange for her services, and immediately begin her training. Aurora is of course reluctant, and wants to be a normal teenager.
I really liked the twist on vampirism that the author uses. Not all of it is new, like a virus causing someone to become a vampire, but a lot of it I hadn't read before. For example, the different vampire ailments such as sensitivity to sunlight, garlic, and no reflection are caused by whatever virus they've contracted. And only people with AB- blood can be changed. I always like when there's a scientific basis to the supernatural, and this one is simple but still interesting.
The plot is fast paced and action packed. Aurora gets to kill a few evil vampires with no help from her hunky partner, Dante. There's also a romance blossoming between Aurora and her classmate, Fane. Their chemistry is sizzlin', but they're not without their problems. I can't say more without spoiling it, but it does become quite obvious early on in the book. It was still fun to read though.
I enjoyed this one much better than the other book I've read by this author. Maybe it's just my love of all things vampire, or this book is just better as she grows as a writer. No matter the reason, this is a great start to what looks like it's going to be a fabulous series. I can't wait to see what comes next for Aurora!
Favorite Quotes
"I don't want to go back home. She'll want me to decorate and eat cookies."
Fane laughed. "Clearly you come from a dysfunctional family." (12%)
"Want to hang with us in the library?" Noel asked.
I hesitated. This badass group hung out in the library? (27%)
"Yeah, and nice boys aren't always nice, either." (43%)
Was this review helpful?
If so, please
vote yes on Amazon
.
About the Author:
Nikki Jefford is a third generation Alaskan who loves fictional bad boys and heroines who kick butt. She writes edgy teen fiction, including the Spellbound Trilogy and Aurora Sky: Vampire Hunter.

Nikki married Sébastien, the love of her life, while working as a teaching assistant in France during the 1999/2000 school year. They now reside in the not-so-tropical San Juan Islands, 70 miles northeast of Forks, Washington.


Blog
Goodreads
Facebook
Twitter


Giveaway:
a Rafflecopter giveaway