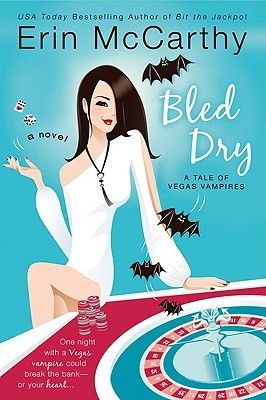 Cover Rating: ★★★☆☆
Title:
Bled Dry
Series:
Vegas Vampires
, #3
Author:
Erin McCarthy
Pages:
284 (Paperback)
Publisher:
Berkley
Release Date:
May 1, 2007
Source:
Purchased
Hooking up with a vampire has its risks-but getting pregnant usually isn't one of them. Tell that to Brittany Baldizzi, who finds herself in the family way with no father in sight. After their one night of passion, vampire Corbin Jean Michel disappeared off the face of the earth-or at least off the Vegas strip.

Corbin is a vampire with a cause, secretly trying to find a cure for his condition. But when he finds out Brittany is pregnant with his child, Corbin can't keep his paternal instincts from trumping his bloodsucking ones. Even when showing his hand could cost him the woman he can't help but love.
I'm not usually one for stories of pregnancy, but when the mother is half-vampire and the father is a vampire, the results can be very interesting. Brittany is known as an
Impure
for her hybrid blood, but what will her baby be? Things get really scientific in
Bled Dry
and I loved it! This one is definitely the best so far.
I adore Corbin. He was such a broody loner in the previous books, but he really comes alive (figuratively) in this book. Brittany's bubbly personality definitely rubs off on him. He still has his moments where he doesn't consider her feelings, which is frustrating to me and to her, but he's been alone for 200 years; he needs time to adjust. There's also the matter of his research to find a cure for vampirism, which also gets tangled up with his interested in his baby's genetics. We finally find out who Brittany's father is! I figured it out early on in this book, but I definitely hadn't been expecting.
Unfortunately, I didn't care for the Kelsey/Ringo/Donatelli plot this time around. I was really growing to like Kelsey, but I just didn't get her decisions in this book. Ringo is a complete jerk to her and yet she still claims to love him and follows him around like a sick puppy. Ringo's scheme to weasel some money out of Donatelli also just seemed to add pages, not really anything to the story as whole,since Donatelli essentially found everything out on his own anyway. Luckily these things were only a small part of the book.
This one was much more fun than the others. Watching Brittany and Corbin try to figure out parenthood was sweet and funny. They're chemistry is through the roof, so they're sex scenes were pretty darn good, too! I loved the little twist at the end, and I can't wait to see how this series ends!
Favorite Quotes
"A stray hair here or there, a glass left sitting there with saliva, skin, blood..." He trailed off at Carrick's expression.
"That is just wrong, Atelier. That's stealing."
"It is not. If you leave your DNA lying about, it becomes public property." (pg 38)
Apparently vampires were used to disposable time, because Corbin moved like molasses uphill in a snowstorm." (pg 177-8)