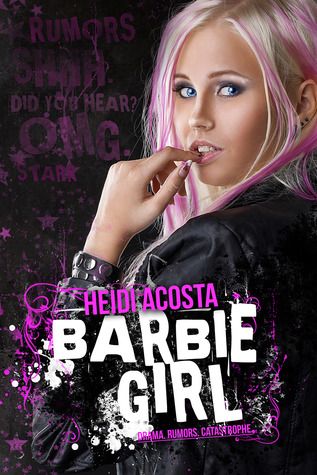 Cover Rating: ★★★★★
Title:
Barbie Girl
Series:
Baby Doll
, #1
Author:
Heidi Acosta
Pages:
189 (Kindle edition)
Release Date:
November 3, 2012
Source:
Author
The only thing that 17 year old Barbie Starr wants to do is graduate high school so she and her little brother, Everett, can get out of Alabama. She doesn't care about the rumors that are spread around about her like wild fire. Rumors are nothing new to her. Sure, maybe she could change her reputation, but why bother. She is leaving Alabama as soon as she can. That is, if she can pass algebra and graduate.

The only thing Dylan Knight would like to do is go through high school unnoticed; he has had enough of the drama that is high school. He took the whole of last summer to bulk-up, finally he is not being called names or being shoved into lockers. He wants to remain on the outside of the circle of constant rumors that surround the so-called popular kids who get all the attention. He would not, however, mind if his long time crush Katie took notice of him.

But it is Barbie, who notices Dylan and she offers him a deal he can't pass up, if he helps her pass algebra, she'll help him get the girl of his dreams. Dylan agrees, but, as it turns out, nothing is simple when it comes to Barbie. Somehow, she can't help but draw attention to herself — and to him. Soon Dylan finds himself tossed into the whirlwind of rumors that seem to follow Barbie everywhere. Can he save his reputation and still get the girl of his dreams? Or will Barbie be the one to break through his carefully-built facade?
Barbie Girl
is a different kind of YA Contemporary Romance, and it's one that I absolutely adored! This story puts a twist on the typical nerd gets the popular girl plot. We have Dylan who tries to remain under the radar after years of being stuff into lockers, Barbie who has a reputation of being the school slut, and Katie, the typical good girl who's loved by the whole school. Dylan wants Katie, but she has no idea he exists, until Barbie steps in to help him in exchange for some math tutoring.
This is told in my favorite multiple POV! First we meet Dylan, who unfortunately believes the rumors about Barbie and is reluctant to help her at first. He's worked hard to change his image into something less noticeable, so he doesn't want the attention that Barbie naturally attracts.
Barbie is such a great character. She's not at all what she seems. Sure she puts on this tough girl front and makes out with boys under the bleachers, but she's far from the girl her classmates think she is. She's not sleeping around or doing drugs. She's actually responsible for taking care of her younger brother and their drunken mother. It's a struggle for Barbie to keep her small family fed and safe, but she doesn't let anyone see this vulnerable side of her. At least, not until Dylan enters her life.
Oddly, my favorite relationship was Barbie and Third, Dylan's best friend. At the beginning I found him annoying and rude, but then he started to grow on me. He becomes a really good friend to Barbie and doesn't judge her, and he's there for her when she hits rock bottom. He's looking for acceptance just as much as she is, and I'm glad they were able to find each other. This might be one of my favorite friendships I've read in YA so far.
The one bad thing that stood out to me about
Barbie Girl
was the stiff dialogue that I've begun to notice is common in self-published books. There's also a few typos, but neither of these problems hindered my enjoyment of the overall story. They're just minor annoyances.
Barbie Girl
is a wonderful story. It starts as a sweet romance, but then morphs into something much more. There are some heavy issues that I think are handled quite well. I was rooting for Barbie the whole time. She deserves so much more than life has given her, and I admired the strength that she showed. The ending isn't perfect, and I was super frustrated with Dylan. But I was happy to see Barbie in a better place.
Favorite Quotes
My throat aches with the words stuck in it. He thinks he knows me, just like everyone else at this school. They have no clue, how their words are like a knife cutting me deep. "You think you have everything figured out, that everyone has their place, that it is black and white, you fail to see the gray in-between." (15%)
"You have never seen Star Wars!"
She shrugs. "Nope," my mouth is hanging open.
"What's the big deal?" she says nonchalantly.
"The big deal! The big deal is I cannot make out with someone that has no knowledge of what takes place in a galaxy far, far away," I joke. (53%)
"Sometimes people are not what they seem." (75%)
Was this review helpful?
If so, please
vote yes on Amazon
.