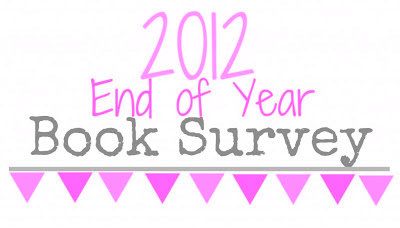 I've decided to do the 2012 End of the Year Book Survey. Better late than never!
Best In Books 2012
Book Blogging/Reading Life
1. New favorite book blog you discovered in 2012?
Well, I discovered most of the blogs that I follow this year, so it's hard to choose just one!
2. Favorite review that you wrote in 2012?
Um, I don't even know. I don't think any of my reviews are particularly special.
3. Best discussion you had on your blog?
None. My blog lacks discussion.
4. Most thought-provoking review or discussion you read on somebody else's blog?
I read some really great posts this year, but it was probably something from
Parajunkee
or
Respiring Thoughts
.
5. Best event that you participated in?
The Soul Screamers Reading Challenge! Not only did I discover an amazing series, but I won a book, too!
6. Best moment of book blogging in 2012?
Someone buying a book after reading a negative review that I wrote!
7. Most Popular Post This Year On Your Blog?
Besides my
6 Month Blogoversary Giveaway
, the post with the most views is my
review of ReAwakened
.
8. Post You Wished Got A Little More Love?
Any of my reviews, especially of lesser known books.
9. Best bookish discovery?
BetterWorldBooks.com
10. Did you complete any reading challenges or goals that you had set for yourself at the beginning of this year?
I did complete the TBR Reading Challenge, Immortal Reading Challenge, and the Debut Author Challenge! I didn't set any personal goals.
Looking Ahead…