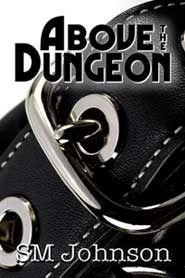 Cover Rating: ★☆☆☆☆
Title:
Above the Dungeon
Series:
Dungeon
, #1
Author:
SM Johnson
Pages:
211 (Kindle edition)
Release Date:
April 14, 2010
Source:
Author
With the ink barely dry on his Ivy League diploma, Dare is expected join the family business, marry his high school sweetheart, and commit his life to conservative suburbia. But in a moment of panic he runs away to NYC where his cousin gets him a bartending job at a club called Above the Dungeon. The basement of the club houses legendary BDSM Master Roman's dungeon. And Roman's interest in the newest bartender challenges Dare's lifelong perception of his own sexuality.

As he draws Dare into the world of BDSM, Roman has to contend with the feelings and insecurities of Jeff, the 24/7 slave he has at home.

Alternately told from points of view of Dare and Jeff, Above the Dungeon is a series of highly erotic BDSM scenes tied together with tight plot and intense relationship dynamics.

Above the Dungeon contains depictions of M/M and BDSM couplings which are to be considered erotica. Consider yourself warned.
Above the Dungeon
is another book that I can add to my list of annoying 1st/3rd person narrative flip-floppers. But I think I must be getting use to it since that didn't bother me nearly us much as it has in other books. I actually think it kind of works, since Dare, whose chapters are in 3rd person, is kind of an observer. He's not totally part of the action. Then there's Jeff, who has the 1st person chapters, who is a 24/7 slave to Roman, the club owner and Dare's boss. These two POVs are extremely different from one another, and the narrative style definitely exaggerates that fact.
At first it feels like there are two separate plots happening here. We have Dare, who is quite up tight, and stumbles into a job as a bartender in a gay club. Roman decides to take him under this wing and give a tour of the BDSM lifestyle. While this does interest Dare, he's struggle with what it means for his sexuality. Eventually he learns that sexuality is not set in stone or black and white; there's a whole spectrum of gray. Meanwhile, we also have Roman and Jeff's long term relationship. Jeff longs to fall in love again, and wishes Roman would, too. But there's the issue of jealousy and what bringing a new man would mean for Jeff's position as Roman's slave. Eventually these two plots merge together seamlessly.
I found the glimpse into a 24/7 slave relationship very interesting. I hadn't read about that before, so I felt like I was learning right along with Tristan (another man considered into the Roman/Jeff relationship) and Dare. Even though it's a whole different lifestyle, Roman and Jeff do have some of the same issues as "normal" couples. I enjoyed reading about them. I also loved watching Dare open up. He was very wound up, but Roman knew exactly how to loosen him up.
I ended up really enjoying
Above the Dungeon
. It was only my second M/M erotic novel, but I found that I didn't even think about the fact that it was only men. I just liked the overall story.
Favorite Quotes
"Sexuality is fluid when you get beyond the notion of right and wrong." (16%)
"Limits are for people who know what they're negotiating. Your fear makes everything a limit. Which really means you don't have any limits. Yet." (45%)
"Trust and obedience will set you free." (46%)
Was this review helpful?
If so, please
vote yes on Amazon
.