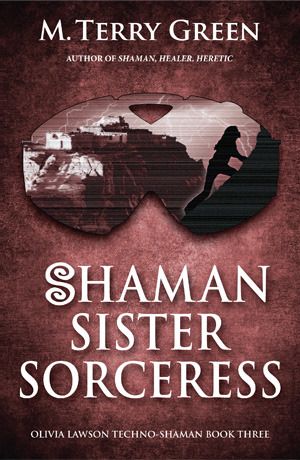 Title:
Shaman, Sister, Sorceress
Series:
Olivia Lawson, Techno-Shaman
, #3
Author:
M. Terry Green
Pages:
384 (Kindle edition)
Publisher:
M. Terry Green
Release Date:
September 28, 2012
If techno-shaman Olivia Lawson thinks a trip to the Hopi mesas is the escape she needs, she is gravely mistaken. Abducted from her tour, Livvy quickly discovers that all is not as it seems in the quiet villages.

Formidable shamans draw her into a bitter and centuries-old conflict. While Livvy struggles to do what's right, she can't help but pursue an unexpected chance to be with the man she loves.

But as prophecies turn deadly, even the gods of the multiverse play their part and Livvy must choose--between this world and a new one, between action and acceptance, between duty and desire. With all existence hanging in the balance, Livvy finds that, where choice begins, innocence ends.
Out of the city and into the ancient world of the Hopi is where we find Livvy. She's seeking answers about herself, and hopefully a solution for her and SK. Instead, she unknowingly gets involved in the hunt for a missing tablet that's apart of a long lost prophecy. Livvy wants nothing to do with it, but she also doesn't want the tablet to end up in the wrong hands. Who can she trust? There's a lot of new characters introduced in
Shaman, Sister, Sorceress
, so it was hard to tell who's trustworthy or not, since we don't really know any of them yet.
Although I missed all of Livvy's friends in Los Angeles, being away from the city allowed the author to expand on shaman history and the multiverse. We learn a lot of interesting new things about being a shaman right along side Livvy. She's getting a lot more answers than she was expecting to questions she didn't even know she had! Livvy has many more abilities than she ever imagined. Also the multiverse is very different when she enters it from the Hopi village. It's much more vibrant than her own grey downtown setting.
I absolutely adore SK! I was so glad he made an appearance in this book. He's so supportive of Livvy and their love for each other is so obvious and sweet. I also like how he's not the typically tall, dark, and handsome love interest. He's a normal guy, well, as normal as a shamanic intercessor can be, and he's a dwarf, which is something that doesn't appear a lot in fiction. He's just an all around great guy and I can't wait for him and Livvy to find a safe way to be together!
While I did really enjoy this addition to the series, it was a bit disorienting in the beginning. There's several new characters, and the POV jumps around a lot as we follow everyone who's involved in this ancient prophecy to bring about a new world. There are a lot of twists along the way that I wasn't expecting, so I was definitely encouraged to continue flipping pages! It ends on a mostly happy note, so I'm wondering where life takes our favorite lightning shaman next?
Favorite Quotes
No one was afraid of heights. They were afraid of falling. (pg 64)
It was stealing after all. Well, not stealing, like stealing. It was actually stealing to prevent stealing. Well, whatever it was, it was the right thing to do. (pg 204)
"You, young lady, need to get a hold on that anger. The only thing that's good for is poison." (pg 328)
Was this review helpful?
If so, please
vote yes on Amazon
.