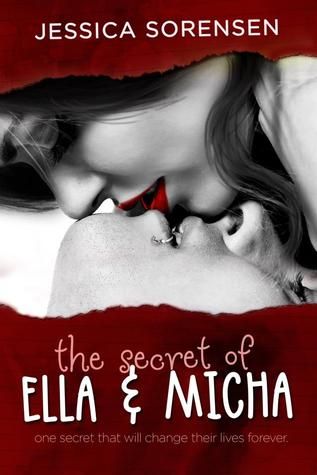 Title:
The Secret of Ella and Micha
Series:
The Secret
, #1
Author:
Jessica Sorensen
Pages:
317 (Kindle edition)
Release Date:
October 2, 2012
Ella and Micha have been best friends since they were kids. But one tragic night shatters their friendship and their lives forever.

Ella used to be a rule-breaker with fiery attitude who wore her heart on her sleeve. But she left everything behind when she went to college and transformed into someone that follows the rules, keeps everything together, and hides all her problems. But now it's summer break and she has nowhere else to go but home.

Ella fears everything she worked so hard to bury might resurface, especially with Micha living right next door. If Micha tries to tempt the old her back, she knows that it will be hard to resist.

Micha is sexy, smart, confident, and can get under Ella's skin like no one else can. He knows everything about her, including her darkest secrets. And he's determined to bring his best friend, and the girl he loves back, no matter what it takes.

(New Adult Contemporary)
*Mature Content** Recommended for ages 17+ due to sexual situations and language.
The Secret of Ella and Micha
is a New Adult Romance that lies on the darker side of the spectrum. Eight months ago, Ella packed up and left everything and everyone behind. Now she's back and Micha doesn't even recognize her as the girl who left him on the bridge that night. That's because she's not. At least Ella pretends she's not that girl anymore, but being back home and around Micha is bringing that girl back out.
The story is told in alternating POV, which should give us the whole story. Unfortunately, Ella won't talk about what happened the night she left because she can't remember and Micha won't talk about it. This could be frustrating, but I think it adds an air of mystery and compelled me to keep reading. Both of them have some demons to face; Micha's absent father and Ella's mother's suicide. Neither of them have dealt with their personal issues on top of their unresolved romance.
Ella and Micha's chemistry is through the roof! The sexual tension is so thick, I thought I was going to choke on it. These two have some seriously steamy scenes when they're reunited. Even though Ella is trying to keep her walls up, Micha causes them to crumble little by little. It was also beyond frustrating because it's so obvious to everyone around them that they love each other, but Ella just keeps pushing him away. But when they do finally come together...woah! It's definitely hot!
This was my first book by Jessica Sorensen although I've had her on my radar for awhile now, and I was very impressed.
Ella and Micha
is a fast read, an emotional roller coaster, and will surely steam up your ereader!
Favorite Quotes
Mirrors see straight through my facade. They know who I used to be; a loud spoken, reckless girl, who showed what she felt to the world. There were no secrets with me.
But now secrets define me. (2%)
"You can't just change who you are on the outside and expect it to change who you are on the inside." (28%)
"I love you, Ella May, and nothing will ever change that. You can push me away--run away--and I will still love you." (72%)
Was this review helpful?
If so, please
vote yes on Amazon
.