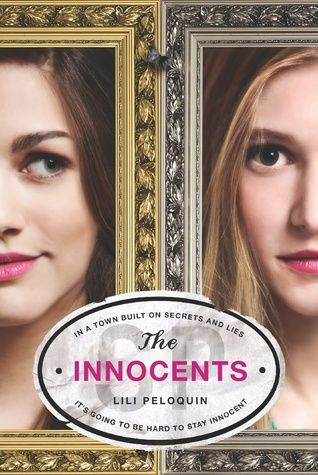 Title:
The Innocents
Series:
The Innocents
, #1
Author:
Lili Peloquin
Pages:
268 (Hardcover)
Publisher:
Penguin Group USA
Release Date:
October 16, 2012
I reviewed an ARC.
Nothing ever came between sisters Alice and Charlie.
Friends didn't.
Boys couldn't.
Their family falling apart never would.
Until they got to Serenity Point.

In a town built on secrets and lies, it's going to be hard to stay innocent. They're sucked into a strange and seductive world—a world they can't help but hate, and can't help but love. A world that threatens to tear them apart, just when they need each other the most. The Innocents is the first in a new series of young adult novels that weave a saga of nail-biting drama, breathless romance, and Gothic mystery.
I had absolutely no expectations going into this one, which was kind of nice, since I couldn't be disappointed. In fact, I hadn't even heard of
The Innocents
until I won a prize pack of ARCs which happened to include it. It ended up being a pleasant surprise. It's kind of like Gossip Girl with a slight gothic twist. Alice and Charlie are moving in with their mom's filthy rich new husband. While Charlie immediately joins the popular crowd, Alice is having a bit more trouble. It also doesn't help that she happens to look like their step-father's dead daughter, Camilla. Alice also can't help but wonder if the story surrounding Camilla's death is true or not.
The first half of
The Innocents
reads like a typical YA Contemporary. The girls move to a new town, meet the queen bee, and spot some boys. Charlie who seems uber confident as she tries to fit in with Cybill and Jude is faltering a little under the pressure. Alice on the other hand is keeping to herself although she has her eye on Tommy, who happened to be Camilla's boyfriend when she was alive. Alice is also having a rough time getting along with her step-father. Is it because she reminds him too much of what he lost?
Then we start to learn more about this mysterious Camilla. She's not what she seemed, and I really liked these tidbits about her. I was hoping that more of the gothic, mystery vibe would appear, but it still read as pretty contemporary. The twist near the end wasn't really shocking at all, since we're given all of the pieces to figure it out. It's still a pretty good read, and I think I'll read the next one, since things about Camilla's death, and Alice's relationship with Charlie are still up in the air.
Favorite Quotes
Long-distance relationships never worked; all they did was run up your cell phone bill. (pg 13 ARC)
"She had secrets."
"What kind of secrets?"
Cybill lifted her shoulders in a shrug. "That's why they're called secrets." (pg 160-161 ARC)
"I'm going to give you your first boat-driving lesson."
As she stepped inside the circle off his arms, she said, "Wait, is this the rich-person version of the boy taking the girl to the scary movie so he has an excuse to put his arm around her?"
"Yes. And later I'm going to cut a hole out of the bottom of a caviar jar." (pg 199 ARC)
Was this review helpful?
If so, please
vote yes on Amazon
.