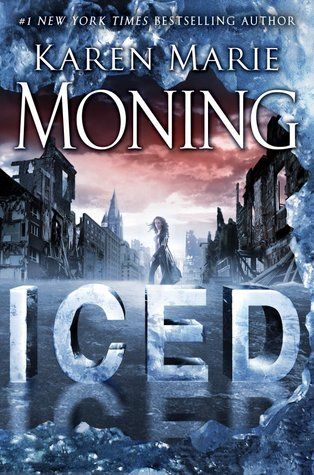 Title:
Iced
Series:
Dani O'Malley
, #1
Author:
Karen Marie Moning
Pages:
495 (Hardcover)
Publisher:
Delacorte Press
Release Date:
October 30, 2012
The year is 1 AWC—After the Wall Crash. The Fae are free and hunting us. It's a war zone out there, and no two days are alike. I'm Dani O'Malley, the chaos-filled streets of Dublin are my home, and there's no place I'd rather be.

Dani "Mega" O'Malley plays by her own set of rules—and in a world overrun by Dark Fae, her biggest rule is: Do what it takes to survive. Possessing rare talents and the all-powerful Sword of Light, Dani is more than equipped for the task. In fact, she's one of the rare humans who can defend themselves against the Unseelie. But now, amid the pandemonium, her greatest gifts have turned into serious liabilities.

Dani's ex–best friend, MacKayla Lane, wants her dead, the terrifying Unseelie princes have put a price on her head, and Inspector Jayne, the head of the police force, is after her sword and will stop at nothing to get it. What's more, people are being mysteriously frozen to death all over the city, encased on the spot in sub-zero, icy tableaux.

When Dublin's most seductive nightclub gets blanketed in hoarfrost, Dani finds herself at the mercy of Ryodan, the club's ruthless, immortal owner. He needs her quick wit and exceptional skill to figure out what's freezing Fae and humans dead in their tracks—and Ryodan will do anything to ensure her compliance.

Dodging bullets, fangs, and fists, Dani must strike treacherous bargains and make desperate alliances to save her beloved Dublin—before everything and everyone in it gets iced.
I loved being back in Moning's ruined Dublin.
Iced
seems to pick up right after
Shadowfever
, with the city over run with Fae, an Unseelie Prince trapped in ice underneath the abbey, and Chester's as the go-to place for human/fae encounters. However, now we're following 14 year old Dani "Mega" O'Malley as she works with Ryodan to figure what's causing random places around the city to instantly freeze.
Even though this is Dani's book, there are a few chapters from Christian MacKeltar's POV. It was interesting seeing his slow transformation into an Unseelie Prince, but in general his chapters didn't add anything to the story, with the exception of the time Dani was unconscious and unable to narrate. Other than that, he just watches Dani from a rooftop or a tree, pines after her (which was SUPER random and weird), and talks about his penis. I like Christian, but his chapters just did nothing for me. However, Kat, the new Grand Mistress at the abbey, also has some chapters scattered throughout. Her's are very interesting, but I think they'll play a bigger role in the following books.
I'm wondering if Dani's trilogy is all going to follow the there's a problem that gets solved at the end formula. That's how
Iced
is. There's no over arching conflict that I could identify. Sure there's a cliffhanger ending, but it's a personal problem for Dani, nothing major.
We also get to meet the mysterious Dancer that Dani mentioned to Mac in
Fever
. He plays a pretty big role in this book, but he has to the flattest character I've ever read. He has no personality at all, and seemed to just be there to be the brains behind Dani's brawn. He's super smart, and figured out a lot of the missing pieces, but that's about all he did. He was a convenience.
I really liked this one, but it's missing something for me that
Fever
had. Maybe it's that lack of a larger conflict, I'm not sure, but I didn't enjoy it as much as I thought I would. Dani is a great character to follow, but I don't get what appeals her to Christian and Ryodan. In fact, that whole semi-love-triangle thing, was really weird and felt forced. I'm curious to see where that goes though.
Favorite Quotes
"Dude. Post-apocalyptic world. Who does job applications anymore?"
"I do."
I squint at it, then him. "What are you paying me?" I angle.
"Dude. Post-apocalyptic world. Who does money anymore." (pg 31)
"I don't 'boink' anyone. I fuck," Ryodan says. (pg 415)
Got to love a dude that says things like "kinetic" and "detritus." (pg 425)
Was this review helpful?
If so, please
vote yes on Amazon
.