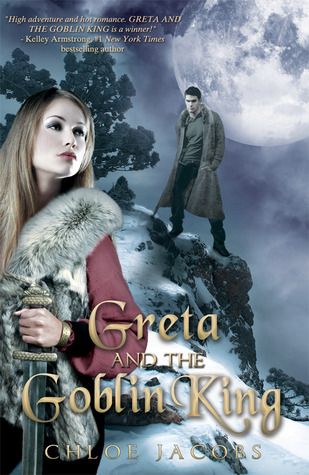 Title:
Greta and the Goblin King
Series:
Mylena Chronicles
, #1
Author:
Chloe Jacobs
Pages:
400 (Paperback)
Publisher:
Entangled Teen
Release Date:
December 11, 2012
I received an ARC through NetGalley.
While trying to save her brother from a witch's fire four years ago, Greta was thrown in herself, falling through a portal to Mylena, a dangerous world where humans are the enemy and every ogre, ghoul, and goblin has a dark side that comes out with the eclipse.

To survive, Greta has hidden her humanity and taken the job of bounty hunter—and she's good at what she does. So good, she's caught the attention of Mylena's young goblin king, the darkly enticing Isaac, who invades her dreams and undermines her will to escape.

But Greta's not the only one looking to get out of Mylena. An ancient evil knows she's the key to opening the portal, and with the next eclipse mere days away, every bloodthirsty creature in the realm is after her—including Isaac. If Greta fails, she and the lost boys of Mylena will die. If she succeeds, no world will be safe from what follows her back...
Greta and the Goblin King
was a book that I requested on a whim. The title didn't particularly call to me, but goblins sound fun, and it was getting great ratings from GR friends, so why not? About a third in, I was really glad that I took a chance on it!
Immediately, this book stood out from other YA Paranormal novels. Instead of having a teen girl unknowingly stumble upon supernatural creatures (typically in the form of a hot teen boy), Greta is already fully immersed in a fantasy land. She's been stuck in a world where she doesn't belong for four long years. She also has an established relationship with the hot goblin King. Not a romantic one, although there is an obvious attraction. It's a kind of antagonistic relationship, but Greta admits to not wanting to get attached to anyone in Mylena since her number one priority is getting back home.
Isaac, the goblin King, is a very interesting character. Despite being the King, he keeps no servants. He isolates himself from his kingdom and seems unhappy in his position. Why is that? I'm not really sure, but I'm eager to get to know him better in the following books. He's also one of few Mylena citizens who wants to protect Greta. Or is he? She can't really tell.
I loved how this had a mash-up of elements from multiple fairytales, including
Hansel and Gretel
and
Peter Pan
. It made it all the more fun seeing how these tales can be related to each other to make up one new story. Of course, there's also a lot of unique mythology, like all of the creatures in Mylena shifting to a more primal state during an eclipse, and Isaac having access to Greta's dreams.
Greta and the Goblin King
is a highly engaging read full of sword fights, evil fairies, magic and romance. I could barely put it down! The ending is a bit rushed, and there's no complete resolution, so I cannot wait for the next book!
Favorite Quotes
Winning the day rarely come down to being stronger or faster or braver than the other guy. Mostly, it came down to being colder, smarter, and more ruthless than the other guy. (3% eARC)
"What is reality after all, but the process of making connections, forging bonds? Where is it written the only way to do that is skin to skin?" (54% eARC)
"Just because you don't want it, doesn't mean you don't need it." (66% eARC)
Was this review helpful?
If so, please
vote yes on Amazon
.