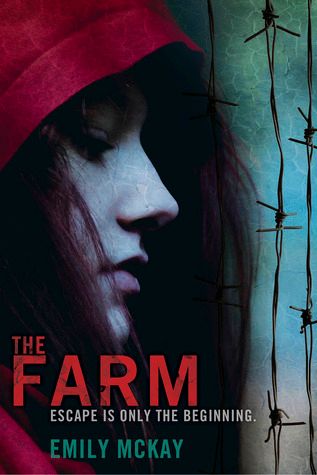 Title:
The Farm
Series:
The Farm
, #1
Author:
Emily McKay
Pages:
420 (Paperback)
Publisher:
Berkly Trade
Release Date:
December 4, 2012
I reviewed an ARC.
Life was different in the Before: before vampires began devouring humans in a swarm across America; before the surviving young people were rounded up and quarantined. These days, we know what those quarantines are—holding pens where human blood is turned into more food for the undead monsters, known as Ticks. Surrounded by electrical fences, most kids try to survive the Farms by turning on each other…

And when trust is a thing of the past, escape is nearly impossible.

Lily and her twin sister Mel have a plan. Though Mel can barely communicate, her autism helps her notice things no one else notices—like the portion of electrical fence that gets turned off every night. Getting across won't be easy, but as Lily gathers what they need to escape, a familiar face appears out of nowhere, offering to help…

Carter was a schoolmate of Lily's in the Before. Managing to evade capture until now, he has valuable knowledge of the outside world. But like everyone on the Farm, Carter has his own agenda, and he knows that behind the Ticks is an even more dangerous threat to the human race...
A dystopian society caused by vampires? Yes, please! It's no secret that I'm a little (or a lot) obsessed with vampires, and my love of the Dystopia genre is steadily growing, so it's no wonder that I loved
The Farm
! It even has multiple POVs which just adds to my love! The vampires are also most definitely not the good guys (with the exception of maybe one), which was an interesting and welcome change from the norm.
I really admired Lily. She's managing to take care of herself and her autistic sister, Melanie, and keep them safe from the Ticks and Collabs. She has so much strength and patience. I would never be able to handle her situation. Her major fault is that she's too stubborn. She doesn't want to trust anyone, but she fails to realize that she needs help to keep herself safe and therefore keep Mel safe. Her stubbornness also keeps her from listening to good advice, which at times made her annoying.
It was really interesting to get Mel's POV, too. She see things quite differently than her twin, but she understands more than Lily gives her credit for. She's a musical savant, so she often describes things in terms of music in her head, but she has trouble verbalizing her observations to Lily. Sometime it was difficult to understand exactly what she meant, but her insight was definitely appreciated.
Finally, we have Carter's POV which is annoyingly in third person. It seems like more and more authors are choosing to do this first-third flip-flop, which is frustrating. I hate it, but at least Carter's chapters were interesting. Right off the bat we learn that he's "playing" Lily and he knows stuff about her that she doesn't even know about herself. I love how Carter and Mel's chapters add things that Lily is blind to, especially since she's our main heroine.
As for the world, it's dark and dangerous. There are "farms" set up all across the country that essentially round up teenagers as cattle for The Ticks, vampires gone wrong. They apparently like the taste of teens the best because they have just the right hormone levels. No one knows what happens to the adults, and Breeders are safe, since pregnancy hormones are unpalatable. It's all very scientific which I admired and loved!
The first 250 pages take place in one day. It's a super action packed, adrenaline filled day. There's so much tension as Lily tries to escape the Farm with her twin and Carter. But getting on the other side of the fence doesn't mean they're free, in fact, there's even more danger in the abandoned regions of the countries. Then that ending...woah!
The Farm
is an intense read.
Favorite Quotes
That's Lily. Never has a thought she doesn't say aloud. Makes her feel the smart one. The normal one.
As if I count less because I don't jabber. Because I listen to the music instead of talking over it. (pg 24 ARC)
"Roberto?" I said again.
Carter's mouth flattened in annoyance. "Yes. Roberto."
"So there's an evil vampire trying to take over the world..."
"Yes."
"And his name is Bob?" (pg 144 ARC)
"Tell me, child, has your hunger ever been so out of control that you've devoured everything in your path with no thought of the consequences? I think not. I am no different. I will control myself." (pg 235 ARC)
Was this review helpful?
If so, please
vote yes on Amazon
.