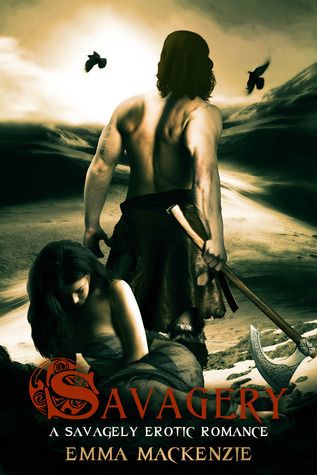 Title:
Savagery
Author:
Emma MacKenzie
Release Date:
December 15, 2012
Purchase:
Amazon
In 10th century France, 18-year old Cherine Cadet only knows one thing: that the life of a peasant isn't a life at all. Tired of working in utter poverty for an unfeeling Lord, with only her indifferent family and love-struck best friend as company, Cherine dreams of the day she can run away from the future set-up for her, even if she knows there's no real escape from her destiny.

Then, in one brutal instance, everything changes. A Viking fleet led by the powerful nobleman and warrior, Rolf the Walker and his right-hand man, Erik the Axe, arrive on the shores of the Lord's estate. In minutes, the entire land is up in flames, Cherine's family and fellow serfs are killed, and Cherine comes dangerously close to death herself. She is saved only by the fierce Erik - but a new lease on life comes with a cost.

Cherine becomes a slave to the Vikings, a fate she thinks is no better than the one she had before. But as she finds herself being shared between the two men, the savage and darkly handsome Rolf and the mysterious and sensual Erik, Cherine discovers that she too has a fiery warrior heart and that the flames that consumed her old life might burn them all to the ground.

***Rated 18+ for graphic sexual content (including dubious consent, bondage and M/M/F menage scenes) and violence***
Savagery
is one of those books where the combination of the setting and the genre immediately sold me. It's an erotic romance set in 909 France, which is not something I've read before. Vikings! Cherine is kidnapped by vikings after they raid her village. Of course, at first she's scared, but then she realizes that Erik is not the violent barbarian she assumes he is. And she soon finds that she wants him.
Even though this is an erotic romance, there's actually a story here, and it's a really good one. Erik has awakened something in Cherine, and freed her from an arranged marriage back home, only to have her enter another one with the viking leader, Rolf. Rolf wants to take a French bride as a warning to the people in the towns he conquers and he'd like her to be skilled in the bedroom, so he's tasked Erik with "training" her. While Cherine may have strong feelings towards Erik, perhaps there's room in her heart (or at least her bed) for Rolf, too?
Then there's Cherine's conflicting emotions are her new life. On one hand, she's happy because her life with the vikings is better than her's had been up to her kidnapping. She's well-fed, has nice clothes, and a comfortable shelter. But she's also a captive, forced to be with a man she does not love (although the sex is good, and keeps her alive). She's also conflicted about Erik. She believes she has feelings for him, but knows she shouldn't. She's afraid of Rolf, but wants to please him to keep her new lifestyle. The only think she has to herself is her body, and she's putting it to good use. She's just trying to make the best of her situation, and getting some pleasure of her own isn't so bad, right?
Savagery
definitely lives up to its name in some places. There's brutal and gory fight scenes, right along with the sex and romance, which also aren't easy. If you're looking for a happily ever after, this will not be it. The ending is quite bittersweet that I definitely think it suits Cherine and Erik's story.
Favorite Quotes
"Sex is not love," she said and was surprised at how emotionless her tone was. (2%)
"Anything without love just rots." (81%)
He whispered, "I can't offer you a ring that's worthy of your beauty, and I can't give you a wedding that's worthy of your soul, but I can ask you to spend the rest of your life with me and hope that's enough to be worthy of your love." (93%)
Was this review helpful?
If so, please
vote yes on Amazon
.