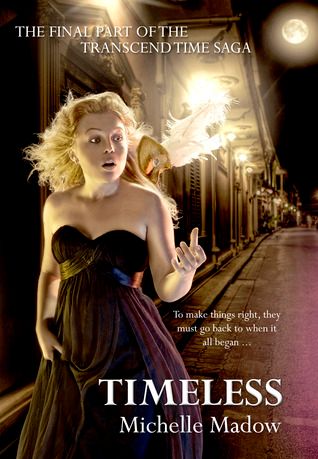 Title:
Timeless
Series:
Transcend Time
, #2
Author:
Michelle Madow
Pages:
230 (Kindle edition)
Publisher:
Dreamscape Publishing
Release Date:
November 20, 2012
I received an eARC from the author.
IT'S A RACE AGAINST TIME.

In Remembrance, Lizzie and Drew changed the course of fate so they could be together.

In Vengeance, Chelsea set fate back on its original, deadly path.

Now, strange things keep happening to Lizzie. Things that are omens of darkness to come. A curse has doomed her to die an early death, just as she did in her past life. To make things worse, even if she can figure out who cast the curse, it's irreversible. There's only one option left for her to save herself. It's crazier than anything she's heard yet, and to do it, she'll need Drew and Chelsea's help.

Because to make things right, they must go back to when it all began …
I thought
Remembrance
was a really unique and sweet love story, but after reading
Vengeance
, I knew it was going to end up as something more. I had no clue what could possibly happen in
Timeless
to give Lizzie and Drew their happily ever after back. Things start out sweet enough, but soon Lizzie is being stalked by crows. She can't help but feel like something evil is following her, but she needs answers, so she heads over to meet with Alistair, her Memory Guide.
This one is much faster paced than the first. There's a sense of urgency from the very first chapter and it feels like our heroes never get a break! The magical and fantasy elements also take on a bigger role this time, which I really enjoyed. However, since the plot does move along so fast, it felt like all of the problems were resolved too quickly. Finding the source of a spell and traveling back in time is probably not easy, but both of things go without a hitch! Also Lizzie and Chelsea's relationship seemed to mend without much effort. I just wish there had been a little more trouble for the characters on their journey.
Timeless
was just as easy and fun to read as the previous two books. The author has written an utterly engrossing and magical love story that will keep you flipping the pages as past lives and current events collide. The
Transcend Time Saga
is enchanting, and will leave you with a smile on your face and maybe a tear in your eye. I highly recommend it to fans of fairy tales and sweet romances; you won't be disappointed! Michelle Madow is definitely going on my Indie Authors to keep an eye on list!
Favorite Quotes
What did it mean? One incident with a crow I could pass off as an accident. But two?
It had to be a sign.
And I doubt it meant good things to come. (10%)
Soul mates, I've always believed in, so I accepted the truth there. But curses? That was extreme. There had to be a place where the line was drawn between fiction and reality, and a curse sounded way more on the fiction side of the spectrum. (21%)
Why was it that when you were looking forward to a specific day, it took forever to arrive, but when you were dreading a day, it was there immediately? (30%)
Was this review helpful?
If so, please
vote yes on Amazon
.