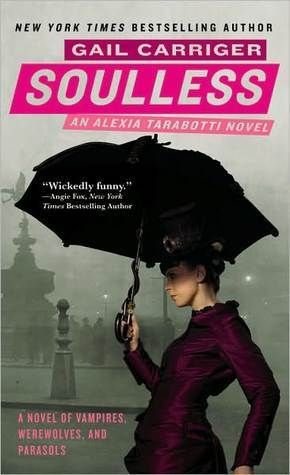 Title:
Soulless
Series:
Parasol Protectorate
, #1
Author:
Gail Carriger
Pages:
357 (Kindle edition)
Publisher:
Orbit
Release Date:
October 1, 2009
Alexia Tarabotti is laboring under a great many social tribulations. First, she has no soul. Second, she's a spinster whose father is both Italian and dead. Third, she was rudely attacked by a vampire, breaking all standards of social etiquette.

Where to go from there? From bad to worse apparently, for Alexia accidentally kills the vampire—and then the appalling Lord Maccon (loud, messy, gorgeous, and werewolf) is sent by Queen Victoria to investigate.

With unexpected vampires appearing and expected vampires disappearing, everyone seems to believe Alexia responsible. Can she figure out what is actually happening to London's high society? Will her soulless ability to negate supernatural powers prove useful or just plain embarrassing? Finally, who is the real enemy, and do they have treacle tart?

SOULLESS is a comedy of manners set in Victorian London: full of werewolves, vampires, dirigibles, and tea-drinking.
The writing style of
Soulless
is more suited to Historical Fiction than Urban Fantasy, so it threw me off in the beginning. But as I kept reading, I noticed that it works perfectly. It's a historical setting that just happens to have vampires, werewolves, ghosts, and preternaturals (people without souls), so why not? I love Historical Romances anyway, so it's not like the writing was bothersome.
I found the humor to be rather dry, and mostly didn't make me laugh. I could easily tell when something was meant to be funny, but that just made me find it not funny at all. If that makes sense. It was too obvious, I guess is what I'm getting at. There definitely were some things that did tickle my funny bone though, so not all was lost!
I have to say that I enjoyed the romance aspect far more than the mystery. I thought it was really funny and cute that Lord Maccon was trying to court Alexia as if she were a female werewolf, then wondering why it wasn't working! But Alexia is a bit eccentric, so once she discovers what's going on with him, she goes along with it and sexy times ensue!
The one thing that I absolutely LOVED was the science. There's all kinds of wacky inventions that pop up throughout the book, and the explanations for the existence of supernaturals was super interesting. Instead of being the soulless creatures that fiction usually paints them to be, the supernaturals are actually people who had an excess of soul, which is what helps them through the transition. This of course means that Alexia, who has no soul, cannot become supernatural. In fact, preternaturals actually null the supernaturals powers when they come into contact! This was all very cool and interesting.
Overall, I enjoyed
Soulless
, although not as much as I was expecting to. It's smart, witty, and compelling, but sometimes the humor was lost on me. The unique portrayal of supernaturals was definitely what made this novel for me. I just wish more time had been spent to Alexia's soullessness rather than her generous curves, too tan skin, and prominent nose.
Favorite Quotes
"Cheap clothing is no excuse for killing a man."
"Mmm, that's what you say." (pg 13)
Werewolves had to obey the laws of physics just like everyone else. (pg 73)
"Very well, Lord Maccon. If we are going to play this particular hand, would you be interested in becoming my..." Miss Tarabotti scrabbled for the right word. What does one properly call a male lover? She shrugged and grinned. "Mistress?" (pg 206)
Was this review helpful?
If so, please
vote yes on Amazon
.