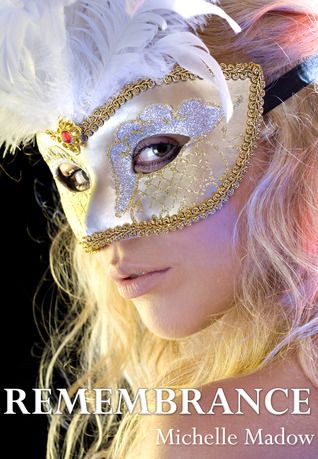 Title:
Remembrance
Series:
Transcend Time Saga
, #1
Author:
Michelle Madow
Pages:
302 (Kindle edition)
Publisher:
Michelle Madow
Release Date:
July 25, 2011
Lizzie Davenport has been reincarnated from Regency Era, England ... but she doesn't know it yet.

Then Drew Carmichael transfers into Lizzie's high school at the beginning of the year, and she feels a connection to him, almost like she knows him. She can't stop thinking about him, but whenever she tries talking with him about the mysteries behind her feelings, he makes it clear that he wants nothing to do with her. Reaching him is even more difficult because she has a boyfriend, Jeremy, who has started to become full of himself after being elected co-captain of the varsity soccer team, and her flirtatious best friend Chelsea starts dating Drew soon after his arrival. So why can't she get him out of her mind?

Even though Lizzie knows she should let go of her fascination with Drew, fighting fate isn't going to be easy.
This one has been on my to-read for quite some time, and I'm so glad that I finally got to it! I really liked how real everything seemed, except the whole reincarnation thing, of course. Although, the way it's presented it does make you at least consider the posibility. I did love the addition of Alistair, since he added a hint of magical realism to the whole tale.
Lizzie is a normal teenage girl. She's not the most popular girl, or a total loser. She's not a genius, but she's definitely not dumb. She's pretty without being conceited or complaining about being plain. She's just Lizzie. Her relationship with her boyfriend, Jeremy, also felt very real. They're not exactly a happy couple, but anyone who's been in a long term relationship that's going down hill can definitely identify with them. Of course there's the dark, mysterious stranger, Drew. Someone so familiar to Lizzie, but she just can't seem to place her finger on it.
I breezed through this book! It was very light and sweet, and even though it wasn't fast paced, I didn't want to put it down. I was completely drawn in by the "we need to stay away from each other" type plot. We know they're suppose to be together, so it just added to the tension even if it is over-done in this genre. I just wanted to know what had happened in their past that makes Drew push Lizzie away at the beginning. While the ending is a happy one for the most part, I know there's more trouble brewing for Lizzie and Drew, and can't wait to find out how this love story ends!
Favorite Quotes
He seemed happy to move up in the world, if "the world" meant high school and "moving up" meant sitting in the center of the cafeteria. (pg 21)
Soccer had to be the most boring, slowest game ever. It would be much more interesting if every so often, the ball spontaneously exploded. (pg 83)
But it was time to realize that I wasn't Cinderella, and no matter how hard I wished it were true, life wasn't a fairy tale where everyone lives happily ever after. (pg 129)
Was this review helpful?
If so, please
vote yes on Amazon
.