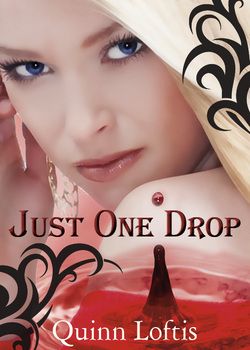 Title:
Just One Drop
Series:
The Grey Wolves
, #3
Author:
Quinn Loftis
Pages:
239 (Kindle edition)
Release Date:
February 4, 2012
Jennifer Adams, best friend to Jacque Pierce and Sally Morgan, spicy, out spoken, a little crazy and human...or so she thought. Jen has just found out that human DNA is not the only thing that resides in her veins, she happens to share that little pesky werewolf gene, although it isn't more than just a drop. Now that she and her friends are living in Romania with Fane's pack, she is also oh so conveniently stuck with the object of her affection, the fur ball Decebel.

Drawn to each other by something they don't understand Jen finds herself frustrated by the lack of mating signs between her and said fur ball. Not only is she dealing with that not so un-frustrating problem, she now has been informed that because of that little drop of werewolf blood in her she is now required to attended a multi-pack gathering for un-mated wolves. This type of gathering hasn't taken place in over a century but with a shortage of females among the werewolf population the males are getting worried they won't ever find their true mates.

Meanwhile Decebel struggles with the emotions he is feeling towards Jen. He tries to keep his distance but there is just something about the mouthy blonde that keeps him coming back for more of her verbal abuse that he just can't seem to get enough of...go figure
Jacque and Fane are now properly mated (and married), and they're back in Romanian with the rest of the pack and Jacque's two best friends. Jennifer got a huge shock during her friend's blood rites ceremony: she has werewolf blood, too! It's just one drop, but it's enough to make her part of the pack. She's now one of the very few females that can be mated to the male wolves. Of course, she already has her eyes set on one in particular, Decebel, who's been watching her back.
My favorite part about
Just One Drop
was that we got to delve deeper into werewolf history and customs. In the first two books the plot was almost completely focused on the romance, but this time we get some actual world building. An old tradition is being reinstated, where all unmated wolves come together for The Gathering. Jen and Dec are not happy about having to attend, since they won't be able to spend time along together. They would if the mating signs would appear, but they haven't, so to the other packs they are not true mates.
Since Jen is the star of this book, there's a whole lot of scheming going it. This one is a lot more fun than the previous two since Jen makes sure something is always happening. The nefarious plot doesn't really start until around 80%, and then it ends on a cliffhanger! That is not fair at all! We also get to know Sally better this time around, and of course there's something special about her, too. Now, I guess I have to get my hands on the fourth book!
Favorite Quotes
"Note to self, lock bedroom door at night to keep perky morning people out." (7%)
Is he going to kiss me? Am I ready for him to kiss me? Jen laughed at that question. Has Joan Rivers had enough plastic surgery to qualify as a plastic figurine? Enough said. (42%)
"Everyone has a destiny and no matter how many times they wander, they will always find their way back to the path that will fulfill their purpose." (69%)
Was this review helpful?
If so, please
vote yes on Amazon
.