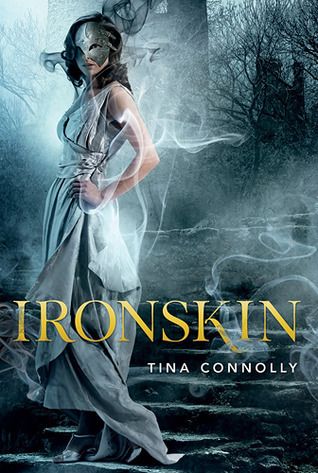 Title:
Ironskin
Series:
Ironskin
, #1
Author:
Tina Connolly
Pages:
304 (Hardcover)
Publisher:
Tor Books
Release Date:
October 2, 2012
I received an ARC from NetGalley.
Jane Eliot wears an iron mask.

It's the only way to contain the fey curse that scars her cheek. The Great War is five years gone, but its scattered victims remain—the ironskin.

When a carefully worded listing appears for a governess to assist with a "delicate situation"—a child born during the Great War—Jane is certain the child is fey-cursed, and that she can help.

Teaching the unruly Dorie to suppress her curse is hard enough; she certainly didn't expect to fall for the girl's father, the enigmatic artist Edward Rochart. But her blossoming crush is stifled by her own scars, and by his parade of women. Ugly women, who enter his closed studio...and come out as beautiful as the fey.

Jane knows Rochart cannot love her, just as she knows that she must wear iron for the rest of her life. But what if neither of these things is true? Step by step Jane unlocks the secrets of her new life—and discovers just how far she will go to become whole again.
I'm not familiar with the story of
Jane Eyre
, so I can't comment on how well (or poor) of an interpretation
Ironskin
is, but I can say that it is a pretty good book on its own. I did find the story to be quite slow, and there was nothing that really compelled me to keep reading, but I still liked it for some reason.
Dorie, Mr. Rochart's daughter whom Jane is governess to, creeps me out! She was born with fey powers, since her mother was killed by fey while pregnant, which is pretty cool (her powers, not her mother's death!). But the way she behaves, and why she can't keep a governess, makes me very uncomfortable. Children with special powers, especially when they don't talk, are down right terrifying to me! I was glad when Jane finally got through to her, and she started behaving more normal. Not just because I was happy she's making progress towards a normal life, but because she became less creepy.
While I loved the whole concept of a war with the fey which left people with curses, I just wish more time had been spent on how this war came about and it's effects. It was mentioned that humans were trading with them for fey technology, but that's about as much as we get. We do get a glimpse into the world of the Ironskin, people who wear various metal garments to contain their curses, but it wasn't much. This was most of the books appeal for me, so I was disappointed.
The one thing I hated in this book was the romance. Yes, you read that correctly. I hated a romance, which is rare. I don't even think it can be called a romance. I was very shocked and confused when all of a sudden about two-thirds in, Jane exclaims, "I love Edward!' What? Where did that even come from? He's not around for most of the book, hiding away in his studio doing whatever it is he does. They have very few interactions, so I felt like I had missed something major when Jane pronounces her feelings. Of course, he returns these feelings and they kiss.
All in all, I liked this one enough. I was bored a lot, and annoyed at the "romance," but I still think it had a good foundation. There were some super disturbing scenes near the end, so I'll definitely read the next book to see where this all goes.
Favorite Quotes
It was not her disfigured side that made her throat clutch and her anger rise; it was her good side. The reminder of how she should look. (5% eARC)
"If the witch drowns, she wasn't a witch," Jane said wryly. (30% eARC)
"I resent being labeled a victim."
"I don't think of you as a victim. As a survivor."
"I resent having had something to survive." (86% eARC)
Was this review helpful?
If so, please
vote yes on Amazon
.