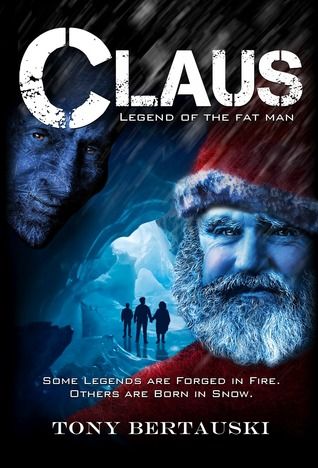 Title:
Claus: Legend of the Fat Man
Author:
Tony Bertauski
Pages:
327 (Kindle edition)
Release Date:
June 19, 2012
The Christmas story you never heard.

In the early 1800s, Nicholas, Jessica and Jon Santa attempt the first human trek to the North Pole and stumble upon an ancient race of people left over from the Ice Age. They are short, fat and hairy. They slide across the ice on scaly soles and carve their homes in the ice that floats on the Arctic Ocean. The elven are adapted to life in the extreme cold. They are as wise as they are ancient.

Their scientific advancements have yielded great inventions -- time-stopping devices and gravitational spheres that build living snowmen and genetically-modified reindeer that leap great distances. They've even unlocked the secrets to aging. For 40,000 years, they have lived in peace.

Until now.

An elven known as The Cold One has divided his people. He's tired of their seclusion and wants to conquer the world. Only one elven stands between The Cold One and total chaos. He's white-bearded and red-coated. The Santa family will help him stop The Cold One. They will come to the aid of a legendary elven known as...Claus.
Even though I don't celebrate Christmas, I was still eager to read
Claus
, because I do enjoy holiday stories, and it seemed like a fun read. It ended up being an interesting mix of Fantasy and Science Fiction with some adventure elements thrown in. Unfortunately, I didn't fully grasp my attention and was missing that special holiday magic for me.
At the beginning, I wasn't sure about it. I liked the elven who lived under the ice, the blue "leaping" reindeer, the technology, and the on going war between the elven, but something seemed off to me. Part of it was the language used. No one sounded like they were from the 1880s. Claus, Jack, and the over elven, I can understand since they live in more advanced society, but Nicholas and his family? Not really. They also didn't seem surprised by the technology that the elven had even though it wouldn't have existed for them yet. This was something that continuously nagged at me.
I didn't enjoy this one as much as
The Annihilation of Foreverland
, but it was still a pretty good story. It was a little stranger than I was expecting, but it was clearly a unique and well thought out retelling of the origin of Santa Claus. I just felt a little lost at times, since there seemed to be a lot going on. The ending was also quite predictable once the main elements were introduced, so the ending lacked that wow factor. Overall, it just wasn't what I was hoping for, but if you're looking for a holiday tale that's really different, I'd say give this one a try.
Favorite Quotes
"Magic is what you call something you don't understand." (6%)
No matter the size, anything that can't harness the mind is very small. (24%)
"To walk along the path of truth can be very uncomfortable. Truth does not seek comfort. It does not reject pain. It asks you to be present at all times." (68%)
Was this review helpful?
If so, please
vote yes on Amazon
.