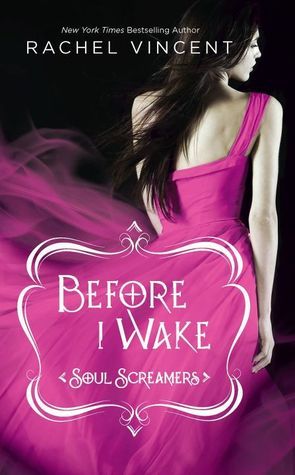 Title:
Before I Wake
Series:
Soul Screamers
, #6
Author:
Rachel Vincent
Pages:
339 (Paperback)
Publisher:
Harlequin Teen
Release Date:
June 26, 2012
I died on a Thursday—killed by a monster intent on stealing my soul. The good news? He didn't get it.

The bad news? Turns out not even death will get you out of high school…

Covering up her own murder was one thing, but faking life is much harder than Kaylee Cavanaugh expected. After weeks spent "recovering," she's back in school, fighting to stay visible to the human world, struggling to fit in with her friends and planning time alone with her new reaper boyfriend.

But to earn her keep in the human world, Kaylee must reclaim stolen souls, and when her first assignment brings her face-to-face with an old foe, she knows the game has changed. Her immortal status won't keep her safe. And this time Kaylee isn't just gambling with her own life….
I was nervous and excited to pick up
Before I Wake
. Nervous because I wasn't sure if this one would match the awesomeness and intensity of the previous book. Excited because, well, I love this series! I'm happy to say that this was another amazing book in the series, but it wasn't quite as good as
If I Die
. I just didn't feel the same emotional pull as I did what that one, but I was still flipping pages so fast that I'm surprised I don't have a paper cut!
Kaylee is up against her biggest opponent yet. Sure it's Avari at the helm, but he's got some new tricks which change EVERYTHING! Not only that, but Kaylee is still trying to adjust to being dead and the aftermath of the messy situation that is Nash. I've been super mad at him through the last couple of books, but now I found myself feeling sorry for him. He's dealing with a lot right now, and I'd hate to see him spiral out of control. Thankfully, Sabine is there, and just as blunt as ever.
My head was spinning with all of the new information we get about hellions. Avari has managed things that were never thought possible, and the mechanics of it are way confusing. I'm not going to say what he's doing, because it's BIG! Kaylee and Co have their work cut out for them to stop him and his companions.
The ending was pretty intense, but also obvious once it was getting set up. I was expecting a little more punch, but I guess that's coming up in the next and final book. I can't believe this amazing series is almost over!
Favorite Quotes
"I'm dead, Dad," I called back, dropping my hairbrush into the drawer. "I don't eat anymore." (pg 8)
I'd never had a boyfriend on my birthday before, and I'd never had a father on my birthday before. And I'd certainly never been dead on my birthday before. (pg 15)
"We were just circlin' the wagons, not having an orgy."
My dad suddenly looked like he might be sick. "Please don't ever say that word again."
"Wagons?" I teased, and he actually cracked a smile.
"Yes, you're much too young to be using Wild West analogies." (pg 101)
Was this review helpful?
If so, please
vote yes on Amazon
.