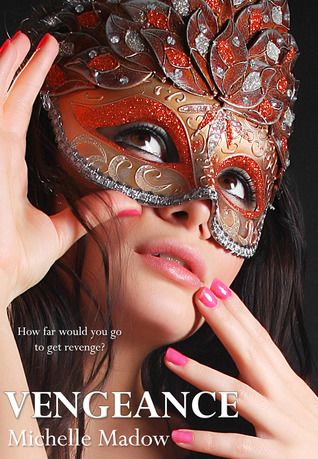 Title:
Vengeance
Series:
Transcend Time Saga
, #1.5
Author:
Michelle Madow
Pages:
51 (Kindle edition)
Publisher:
Dreamscape Publishing
Release Date:
December 6, 2011
How far would you go to get revenge?

When Chelsea Givens discovered that her ex-boyfriend Drew dumped her to be with her former best friend Lizzie, she'd never felt so betrayed in her life. Then her new friend Shannon tells her she can help set things right. Chelsea's willing to listen, but what Shannon wants her to believe -- that she shared a past life with Drew -- is impossible. And what she wants her to do to get him back … well, it's downright crazy.

Could Shannon be telling the truth? And if she is, what lengths will Chelsea go if it means making Lizzie pay?

Find out in Vengeance, the second part of the Transcend Time Saga.

*Vengeance is the short story that bridges the events in Remembrance and the final novel in the Saga.
I loved this short story! It's told from Chelsea's point of view and takes place near the end of
Remembrance
. The pages are dripping with anger, envy, and most of all vengeance. Something about her relationship with Drew isn't siting right with Chelsea, but once she goes to see Genevieve, a psychic, everything becomes clear. I had a suspicion and I'm glad to see that I was right. This definitely adds a major complication for Lizzie and Drew. Chelsea may think she's doing what's right, but she has no idea what she's just done to her lifelong best friend.
Favorite Quotes
Everyone might think Lizzie's an angel, but I knew better. She was selfish, and she was going to pay. (pg 4)
"Reincarnated souls don't come around often. It's my job to help them recall their past lives, and help them in their current one. And you, my dear, are in much need of my help." (pg 26)
But life wasn't a fairy tale, and I had no problem doing what was necessary to get what I wanted, even if it meant playing dirty. (pg 35)
Was this review helpful?
If so, please v
ote yes on Amazon
.