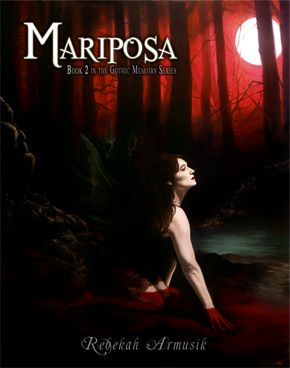 Title:
Mariposa
Series:
The 13 Gothic Memoirs
, #2
Author:
Rebekah Armusik
Pages:
484 (Kindle edition)
Publisher:
Lady Noir
Release Date:
October 31, 2011
At the closing of Memoirs of a Gothic Soul, Nadija Fey underwent a transformation to save her life. That ending of her mortal life is just the beginning in Mariposa, Book 2 of the Gothic Memoirs series.

Though immortal, Nadija is no less of an enigma to those around her. She is the first Guardian to accept the gift of immortality, leaving the celestial council panicked and on edge. Some fear her new gifts may threaten the already-tilting balance, while others, like her Guardian sisters, find her transformation promising. One thing is for certain-her ascension to the position of queen has great significance, but she will have to stay true to being the Nadija that everyone loves her for.

Mariposa goes deeper into the epic story and unravels all you know about legends, theology, and history, blending them all into a cohesive map of the delicate balance Nadija is now responsible for maintaining. There are darker secrets, mysterious creatures, and evil surrounds her at every turn. Never has an author taken you through such a range of emotions with such passion and intrigue... Mariposa will challenge all you know about good and evil.
If the first book was brimming with emotion, this one is overflowing! From the very first page we're hit with some rough scenes as Nadija completes her transition into her new life. There's also a ton of secrets being hidden. Everyone's got them, but some will be more damaging than others when they eventually come out. Nadija's definitely got a lot on her plate in
Mariposa
.
It's not secret that I'm a vampiraholic. I love pretty much all things vampire, so I was excited to watch Dija adjust to her new life as one of the undead. I absolutely love the vampires that the author has created. Their needs and urges are frightening, yet sexy. Dija has pretty good control since she already had magical abilities, but it was still interesting being in her head as she deals with these new feelings. I especially liked her new relationship with James. He's a very interesting character, and I'm definitely looking forward to more of him.
This book has A LOT of new information. Dija is getting settled into her new role as Guardian queen, and as the first hybrid, so naturally we have a lot to learn about these things. However, there's also a lot of history regarding vampires, Guardians, and God. While interesting, this unfortunately comes as rather lenghy info-dumps, typically in the form of Olga telling Dija a story.
I did enjoy this one more than the first book, and that ending definitely confirmed my gut feeling that something huge is coming. I wonder how Nadija is going to keep it together to handle this new situation.
Favorite Quotes
I was a metaphorical butterfly. I was the beauty that emerged out of all the ugliness and pain. I was a mariposa transformation. (2%)
I was expecting an old, frail priest with wire-rimmed glasses. This man was tall, strong, and a vampire. (40%)
"So what does one wear to a castle full of vampires?"
I shrugged. "Garlic." (47%)
Was this review helpful?
If so, please
vote yes on Amazon
.