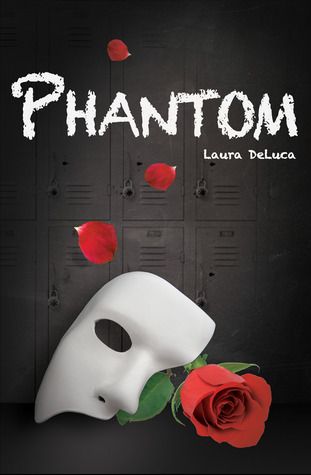 Title:
Phantom
Author:
Laura DeLuca
Pages:
262 (Paperback)
Publisher:
Pagan Writers Press
Release Date:
March 30, 2012
The "Phantom" was a musical phenomenon that Rebecca had always found enchanting. She had no idea that her life was about to mirror the play that was her obsession. When her high school drama club chooses "Phantom" as their annual production, Rebecca finds herself in the middle of an unlikely love triangle and the target of a sadistic stalker who uses the lines from the play as their calling card.

Rebecca lands the lead role of Christine, the opera diva, and like her character, she is torn between her two co-stars—Tom the surfer and basketball star who plays the lovable hero, and Justyn, the strangely appealing Goth who is more than realistic in the role of the tortured artist.

Almost immediately after casting, strange things start to happen both on and off the stage. Curtains fall. Mirrors are shattered. People are hurt in true phantom style. They all seem like accidents until Rebecca receives notes and phone calls that hint at something more sinister. Is Justyn bringing to life the twisted character of the phantom? Or in real life are the roles of the hero and the villain reversed? Rebecca doesn't know who to trust, but she knows she's running out of time as she gets closer and closer to opening night. Only when the mask is stripped away, will the twenty first century phantom finally be revealed.
I was really surprised by
Phantom
! I figured that I would enjoy it, since I absolutely LOVE
The Phantom of the Opera
, but I didn't expect to like it as much as I did. The beginning was a little stiff so I was worried. It seemd to be bogged down by explanations of the original story, which I'm sure was for the benefit of those not familiar with it. For me though, I just wanted to get on with the mystery! However, once it got going, I was hooked.
A member of the Ecology Club and an obsessive Phantom of the Opera fan? Is Rebecca me?! Of course not, but I liked her right away because of these two things, despite her being the usual low self-esteemed and clumsy heroine. She definitely grows in confidence as the book goes along though. I also adored Justyn! He's dark and mysterious on the outside, but he's such an sweet and interesting guy, with plenty of surprises to keep you on your toes!
There's a mystery to be solved at the school, complete with strange objects appearing in lockers and a creepy janitor! Yes, the awesomely cliched, creepy janitor! The ultimate red herring, or is it? At first it seems like a harmless prank until the bodies start piling up! I had fun trying to guess the murderer. I was disappointed when my Suspect #1 got killed, but was excited to find that my Suspect #2 was the perpetrator! However, I was entirely wrong about their motive. That one was definitely unexpected!
Phantom
was quite a fun read, even though it definitely had it's dark moments (lots of death). I also rolled my eyes at a few scenes, because there's just no way they would ever happen in real life: a teacher allowing a student to just walk out after falling 15 feet, with a bleeding head, and possible broken bones? School newspaper article about a student/faculty affair, with no administrative or parental intervention? No way! But I was able to look past these things for the sake of the larger picture.
Favorite Quotes
"I like who I am, Becca. Why should I change for people who don't take the time to look past outward appearances and preconceptions?" (pg 62)
"I won't kiss you, Becca. Not until you've made your choice. Not until I know I have you completely, body, and soul." (pg 145)
If her life were a B-rated horror movie, this would be the part where everyone in the audience would be screaming at the television set for the stupid girl to run the other way. But those people didn't understand the full power of morbid fascination, a thing Rebecca had become overly familiar with in recent weeks. They didn't understand the driving force of the need to know. To know why. To know who. (pg 221)