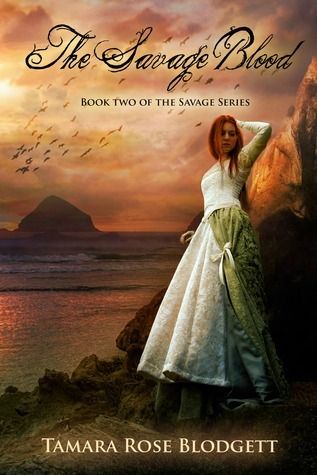 Title:
The Savage Blood
Series:
Savage
, #2
Author:
Tamara Rose Blodgett
Pages:
266 (Paperback)
Publisher:
Tamara Rose Blodgett
Release Date:
November 22, 2011
Matthew and Bracus of the Band travel alongside eighteen-year old queen, Clara Williamson, as she journeys to the sea to unlock the puzzle of her lineage.

Trouble strikes when the fragment absorbs Prince Frederic and undertake plans that involve Clara and her home sphere in a dangerous scheme of coercion.

It isn't long before Clara discovers the Guardians terrible secret through horrible circumstances she must escape from.

Can Clara protect herself from her own destiny?
The Savage Blood
starts out one year after the events of the previous book as Clara and Company make their way towards Cape Cod in search of Clara's birth mother. My first thought was "nooooo!!!" since I really wanted to know what the immediate effects of those ending events were. Unfortunately, we don't get filled in either. Clara has stepped up to her new position as Queen, but she's still her same nice, considerate self. However, she's still shaken from the abuse of Prince Frederic, and she goes through some obvious changes. But that's to be expected after the abuse she's experience, and all of the new situations she's been placed in. She also has to deal with all of the tension between the men while traveling away from her sphere. Tensions are high between Bracus and Matthew, Matthew and Charles, and between Charles and Clara. Everyone is on edge!
The action starts out almost immediately. We're thrust into the open plains of the Outside were the
fragment
roams. Even though the
fragment
is terrible, I was excited to learn more about them, and we definitely get plenty of new information on this wandering group. We also learn about yet another group of people, the Travelers. This is where the story picks up more of a Science Fiction feel. Who exactly are the Travelers and the
fragment
, or more pressing a question, WHEN are they from? There's a bit of talk about "folding" of time and space, but their origins are still a bit mysterious.
Clara does solve the mystery of her heritage once the group reaches Cape Cod. I really liked the insight into this new clan and Band. They're a bit different than the clan which Clara has been traveling with, and again there's that one male who does respect the females. Poor Clara just cannot catch a break from males trying to take advantage of her! Of course, not all of the males in Clara's life are bad. She still has the task of choosing which Band member she wants to be with, but in
The Savage Blood
the dynamics of the love-square change in a way I was not expecting. Plus there's still Charles, Clara's childhood friend and royal adviser. He's completely delusional in thinking that Clara will choose him, even though she's expressed to him multiple times that she only feels friendship for him. He's putting a strain on their relationship, and has become a complete "arrogant fool" as Matthew put it. I really could not stand him this time around. He went from a sweet guy that was I rooting for, to this selfish jackass.
One thing really bothered me in
The Savage Blood
: I had a hard time believing that the Band would be so careless about their protection of the females, especially after the battle in the last book. They always say how they'll always protect the women, and yet several times thoughout the book they let them go off on their own, which allowed them to become attacked and kidnapped. I could understand one moment of carelessness, but it happened far too often. Sure it resulted in a lot of action and conflict, but it was just bothersome and unbelievable.
Other than that, this was another solid, exciting installment of the
Savage
series. We got answers to several questions from the first book, but many more appeared. Plus we're left with a cliffhanger! What are the travelers up to? Will the spheres hold up against the attack? Who's going to kiss Clara next?! I'm looking forward to the next book.